4-way stretchable & fully waterproof fabric
Normally you would need to sacrifice waterproofness when engineering stretchable fabrics (not talking about DWR or water repellent coatings, but true waterproof fabrics). Not in the OMEGA pants. Through a complex process of transfer laminating, that engineered a 3-layer fabric (shell + membrane + lining –>all sandwiched together)that is able to stretch for comfort when moving while maintaining its waterproofness and breathability. So yes, you can even ski on these pants without getting wet and thrive in any adventure you are heading to.
Unfailing durability
Earth's toughest material, Graphene, is integrated into the shell fabric to supercharge the OMEGA pants. Graphene's toughness is translated into massive abrasion resistance. Military grade gear is required to withstand 20.000 rubs in the Martindale Abrasion and Piling Test (a test designed to test how the fabric holds up after X amount of rubs that simulate wear), the OMEGA were tested with the maximum the laboratory (one of the world's finest) would accept to run: 150.000 rubs. The Omega's passed the test with flying colors. Managing all kind of adventures is where the OMEGA pants feel more comfortable. These pants are "scienced" to last.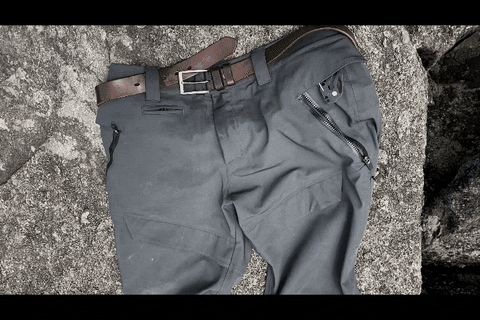 These are no "you won't feel them" pants
The OMEGA pants are no "eco-superlight-you-won't-feel-them" pants. The feeling when trying them on would be closer to the one you get wearing an armor. These pants are meant to last a lifetime and to perform in the most inhospitable places of the world. The fabric used on the OMEGA's is probably one of the most advanced fabrics in the world, and every gram of the kilo they weight is aimed to empower your adventures.
Highly breathable plus lateral ventilation zippers
In hot/humid situations you can't appreciate enough good breathability, especially when you are on action-mode. Breathability is measured over a 24 hour period by the rate at which water vapor passes through a fabric. This result is recorded in grams of water vapor per square meter (g/m2). In case of the OMEGA pants this test threw an outstanding 11.768 g/m2/24 hrs. This is why they rate a 10k breathability index (even though its actually more than that). On top of this, Graphene X added lateral ventilation pockets to over-achieve comfort when the situation demands for more air.
Engineering the OMEGA's can feel like putting together a hardcore puzzle
Isolating Graphene and integrating it to the nylon fibers of the shell face of the OMEGA pants is only step one in a process that takes over 4 months to go through. Over a hundred different pieces / elements are needed to build the OMEGA pants. From dozens of fabric cuts, to the most advanced YKK zippers to magnets that empower the storm flaps everything on the OMEGA pants yells quality. Some may say these pants are "overbuilt" but that's exactly what was wanted. Pants that are adventure-ready in a whole new level.
The A-team of devices are here
Graphene-X doesn't cut corners and every single element used on the OMEGA pants is literally the best of the best found on the market. Every single one of the zippers in these pants is from YKK (even the ones you can't see) and even though their production lead times is over 90 days and their cost 3-5 times more than the second best of the market. When developing goods, there's only one way to go.
This little amazing piece of technology can save your life
The OMEGA pants are thought to be a truly all-round piece of equipment and their function does not stop in protecting you against the elements. Imagine you are doing some backcountry skiing or venturing into the middle of Amazonas and suddenly weather gets you lost and without any kind of communication with the world. Meet RECCO. RECCO is a reflector which does not need power to operate and which will reflect signals from the rescue mission so they can identify your position. This reflector is hidden inside the front pocket of the OMEGA's and even though you won't ever see or feel it, it might just save your life.
The power of pockets
Secret pockets, storm flap protected pockets, utility pockets, rear pockets… you mention it, the OMEGA's have it. The idea behind all these pockets was to empower these pants so you could eventually do without a backpack. They are meticulously thought and engineered so they feel natural but strong enough to carry absolutely anything you can imagine.